About Margarete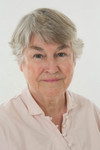 Margarete van den Brink
Background
I completed my studies at the Academy for Social Studies in 1974. Prior to that I worked as a marketing employee for consulting firm Raadgevend Efficiency Bureau Bosboom & Hegener in Amsterdam, Netherlands.
My studies at the Academy for Social Studies were interrupted by three years of Community Development Work in Zambia, Africa. My husband worked there as a mission doctor in a local hospital along the Zambezi river.
Back in the Netherlands, I took additional courses and started a counselling practice. Meanwhile, I delved into spiritual literature to find the insights that could best support me in my work. I knew that if I wanted to be effective at what I did, I would need a solid spiritual basis.
Eventually, the insights of Anthroposophy turned out to be the best fit for me, because they can be made into something practical and concrete. That does not mean that I do not regularly consult other spiritual schools of thought.
Communication trainer and adviser
My counseling work grew from having individual conversations into working with people struggling with relationship problems. From there, I moved towards dealing with problems of communication, cooperation and leadership. This led to the opening of my agency: 'Margarete van den Brink, Consultancy, Communication and Leadership Development'.
From that moment on, I focused my efforts mainly on the training and coaching of people in leadership roles.
Over the years, I worked with leaders and executives in schools, healthcare institutions (including the worldwide Camphill movement), a bank (Triodos), the national police service, a health insurer (Zorg en Zekerheid) and Rijkswaterstaat (governmental agency of water resources). Besides in the Netherlands, I have worked in Scotland, Wales, England, Ireland, Belgium and Spain.
In 2013, I largely left this line of work behind after having twice given a three-year 'International Leadership Course' in Ireland, which was attended by leaders and executives from many different European countries. Occasionally, I still teach courses at educational institutions such as the Biography Institute in the Netherlands.
Books and articles
The activities I mentioned above created a certain need for literature: "where can I read what you're telling me?" Thanks to a special fund, it was possible for me during the 90s to regularly retreat from the world, study, form insights and write books on the subject of developments in the social domain and esoteric Christianity.
I have released eight books to date, two of which I co-wrote with Hans Stolp. Several of these books were translated into English, German and Spanish.
I also write articles for the magazine Verwachting (Expectation), mainly on esoteric Christianity and the spiritual background of the evolution of humanity.