More Precious than Light
How dialogue can transform relationships and build community
Margreet van den Brink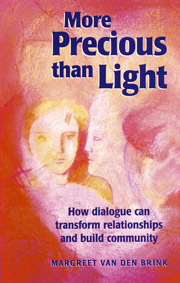 Profound changes are taking place as people awaken to the experience of the Christ in themselves, and in significant human encounter.
As tradition fades, individual and social paths of growth emerge. These are helped by building relationships through helping conversations, through dialogue, through exploring heart felt questions which can lead to liberating personal insights.
This book shows how such dialogues can transform relationships and build community.
But real meeting and healing conversations take effort. There is light and darkness in encounter. There is sympathy and antipathy in relationships. Do we meet ourselves or the other?
In this book I show how true encounter can be fostered. Such work may be strengthened by very special healing powers which help open up the space for community building.
Contents
New Times
Life is changing
The cosmos is changing
The working of the spirit in us
Personal and social development
The mystery of evil
The working of Christ in our time
Meeting and conversing
The individual path and the social path to the spirit
Light in the soul
Awakening others
The liberating insight
Michael
Self knowledge and change
The day-to-day practise
The rhythm of the soul
The 'basic social phenomenon'
Working on the encounter with other people
Self development
Paths to Christ
The social path to Christ
Impotence and resurrection
The personal path to Christ
The brotherhood of human beings
Russel Evans in his introduction:
'Opportunities for community building exist whenever people meet together regularly, sharing in a common task, for study, or simply to meet as individuals searching for a more meaningful life.
The true community spirit values differences as well as harmony, is open rather than closed.
Challenge, support, questioning and empathy are all needed. Knowing when one or the other is appropriate depends on presence of mind. It depends as much on intuition as on a knowledge of groupwork.
This book offers a path through which both knowledge and intuition can gradually be joined, by patient practise and the readiness to learn from the experiences themselves'.
Hawthorn Press, Stroud, UK
130 pages
ISBN 1 869 890 83 3
£ 8,99.
Can be ordered from: